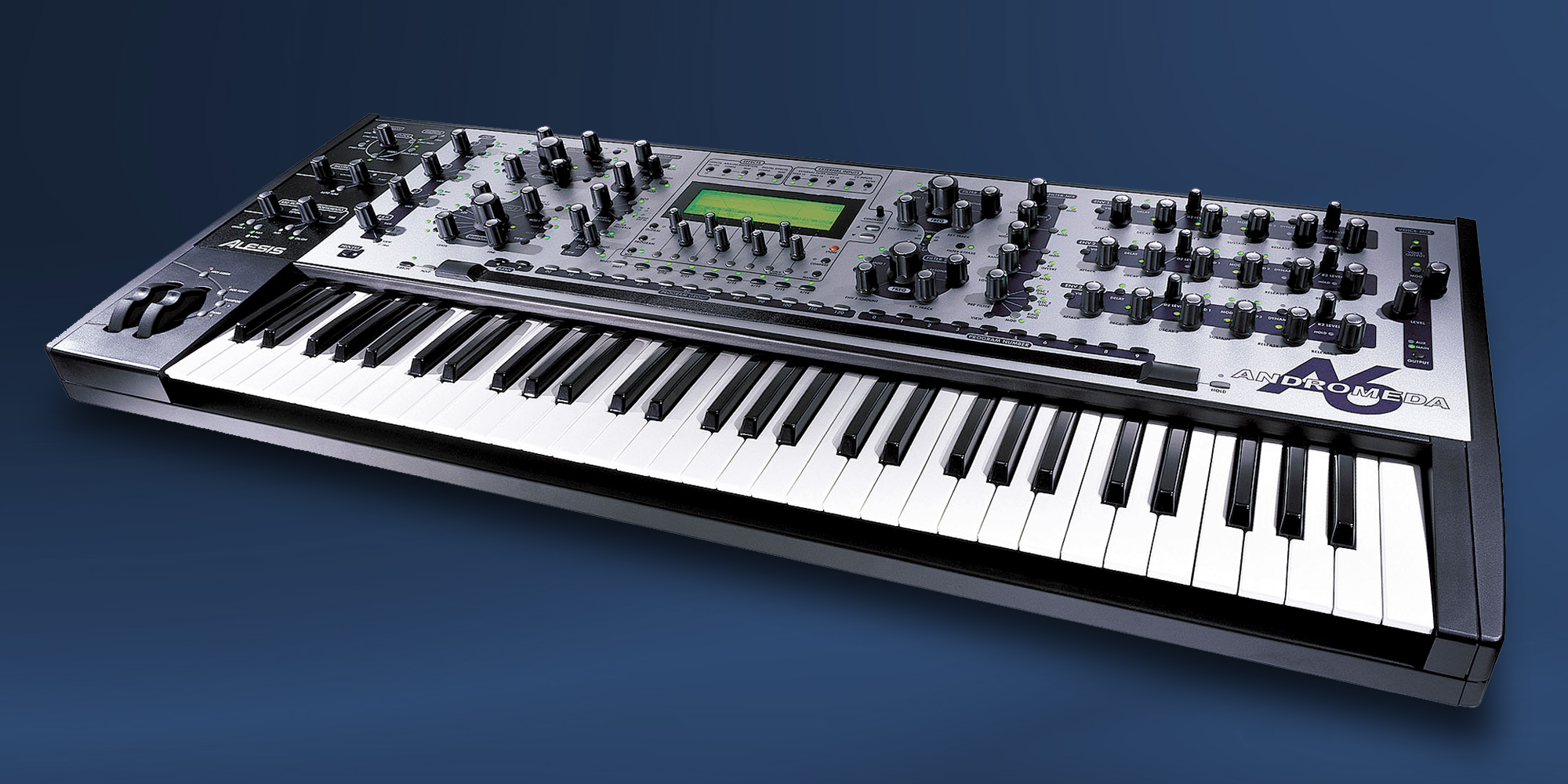 Alesis Anromeda
In 1997 I travelled to the West Coast of the USA to visit some interesting MI (Music Industry) companies with Alesis pencilled in as a first stop destination since it was a big player at that time, serving almost all areas of music electronics with its products. Alesis positively received the presentation of my previous work with a noticeable interest in my synthesizer designs. During the course of that trip I also visited E-mu Systems, Antares, Midiman (later M-Audio), and some Silicon Valley electronics companies. My return journey began without having picked up any design work, but before checking in at the airport my mobile phone rang — Erik Norlander and Rob Rampley from Alesis wanted to see me before I left.
During a spontaneous meeting in the departure hall, Erik revealed that Alesis were just starting developmental work on a spectacular synthesizer, with the financial means to design and manufacture their own AISC — hence the A6 name. Bob Moog and Tom Oberheim were already on board, and Alesis wanted me to be this project's industrial designer. Only a few weeks after this meeting, I sent the first drafts via internet transfer to the development team centred around Erik in Los Angeles.
As usual, I worked out three different designs during the initial design phase. And, as usual, it was the first design that truly hit the mark with Alesis. As an interesting aside, I already had the idea of a planet-like functional arrangement of a module some years earlier, with the most important parameter located in the centre of an orbit while subordinate parameters are arranged around it in a star-like shape — the less significant the effect of the parameter is, the further away it is from the centre. Such structuring results in a very logical arrangement of the control elements and, at the same time, produces an individual face for each module. Moreover, the direct recognition of a function group accelerates workflow when interacting with the machine. This is especially true for a complex, feature-rich user interface, such as that of Alesis' Andromeda.
As a larger scale manufacturer, Alesis was financially able to produce some of the instrument's components — even larger ones — in plastic, which enabled us to build a precise housing without screw connections being visible. The product graphics for the complete control panel are produced on polycarbonate film, form fitted to the housing so as not to be apparent. American manufacturers in particular prefer foils for the extensive labelling of an operating panel since their use avoids the risk of misprints on expensive moulded parts.