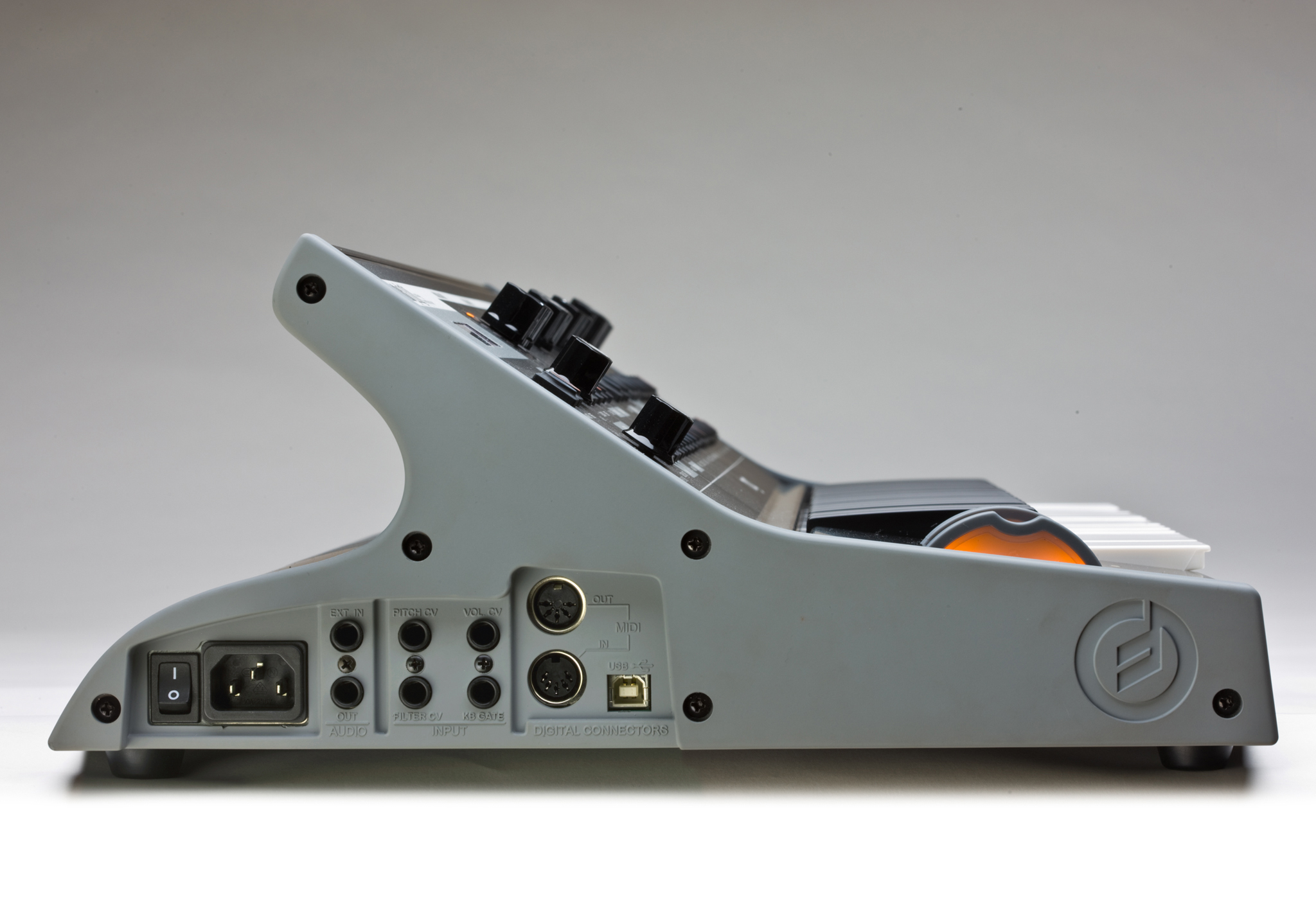 Moog Little 

Phatty
When I first became consciously aware of the synthesizer at the age of 14, most likely it was a Minimoog. Almost nothing else was available at the time. Japanese manufacturers were still mainly busying themselves trying to replicate the Hammond organ, while string ensembles made in Britain, Italy, or even Germany could be heard here and there. At that time I did not realise that Moog was not just a company name, like Hoover, but rather the surname of a man whose idea of generating sound from electrical energy is still stereotyped as the driving force behind almost all synthesizers today.
It was a great honour to work with Bob Moog on his last project, which was snatched from him by dying too soon.
I met Moog Music President/CEO Mike Adams at Musikmesse in 2003. Over dinner he told me about his plan to develop a Moog synthesizer for the masses that should be much easier to make than the complex Voyager. Mike already had a clear vision about what this mass-produced synthesizer should look like, with the main parts being preassembled as a unit which would then be inserted into a basic housing.
This smaller Moog synthesizer would not be blessed with a hinged panel to keep costs down. Instead, its front panel would meet the user at a steep 45° angle in order to maintain Moog's typical 'in-your-face' look. A fully-developed voice — with all synthesizer components, such as oscillators, mixers, envelopes, and amplifiers — would be displayed on the user interface. Initially, sounds were not intended to be storable, which was only added during project development, by which time the one-knob-per-function operation was deemed overkill, so replaced by an Oberheim Matrix-like concept. This decision led to a new operating concept for a Moog synthesizer, shrunken down to one controller per sound module and allowing the use of an LED ring.
The complete rear side of the housing consists of a curved aluminium profile, which was manufactured especially for Moog Music according to my drawings. The end profiles are covered by plastic end caps — wood on the Limited Edition — which exactly follow the contour of that profile. The bottom panel is an easy-to-manufacture metal sheet. Once these parts are connected, the prefabricated front panel can easily be hung and screwed into a bead in the aluminium profile. The plastic wheel housing is then screwed in — just like the keyboard — and the Little Phatty is ready to use.
The shape of the aluminium profile provides the user with the required 45° angle for the control panel, though the wave-shaped contour still achieves a slim, iconic design that significantly contributes to the instantly-recognisable product and, thus, the Moog brand. It is not for nothing that this shape it still used today for Moog's many successors to the Little Phatty.
The sum of its component parts lends the Little Phatty a neo-classical appearance with its aluminium back being perceived as both technical and also an organic, hippie-esque element as a result of the light beads of varying widths. This design scheme was also continued into other Moog products, such as the Moog MP-201 Multi-Pedal and Moog Taurus III Bass Pedals.